MY CHRISTMAS DINNER PREP (Iceland Foods Event #ReasonsToBeJolly)
The 2 week countdown is on and I don't know about you but I'm feeling more festive than ever! The house is decorated, we've begun watching Christmas films and I am ready for plenty of delicious FOOD!!
Christmas in the Sabri household is all based around loads of yummy food to share and that's why I was delighted to be invited along to Iceland's test kitchen to sample their new luxury Christmas range (and get some ideas for our Christmas this year)
A day packed full of cooking demonstrations from Iceland's head chef Neil Nugent, delicious mince pie cocktails, the most yummy desserts and Christmas table decorating. it was the perfect early Christmas treat and I can't wait to share my top take home tips for this Christmas below!
This is the one time of year when I can honestly say I eat completely guilt free. My exercise levels decrease and my calorie intake increases and it's safe to say I never ever regret it.
Enjoy!!
STARTERS
By far my favourite dish of the day: Iceland Luxury Canadian Lobster Tails.
I don't know about you, but year in, year out our family serve prawn cocktails for the starter on christmas day. We have never broken that tradition, despite the fact half of the table don't massively like prawn cocktails. This year, it's time for a change and after tasting Iceland's lobster tails, I am sold! Seriously these are delicious and can be cooked and served in so many different ways. They are the perfect luxury Christmas dinner starter. Not to mention they are incredible value at just £11 for a pack of 2 tails.
How to cook & serve lobster tails?
2 methods were demonstrated by the Iceland chefs.
The first (and my personal favourite) was lobster tacos served with frozen avocado & salsa
Neil cooked the tails with hay, a simple and fast technique that I have never tried before, and gave the lobster the most delicious smokey flavour.
The second demonstration was somewhat more sophisticated and equally as delicious as you can see in the image above!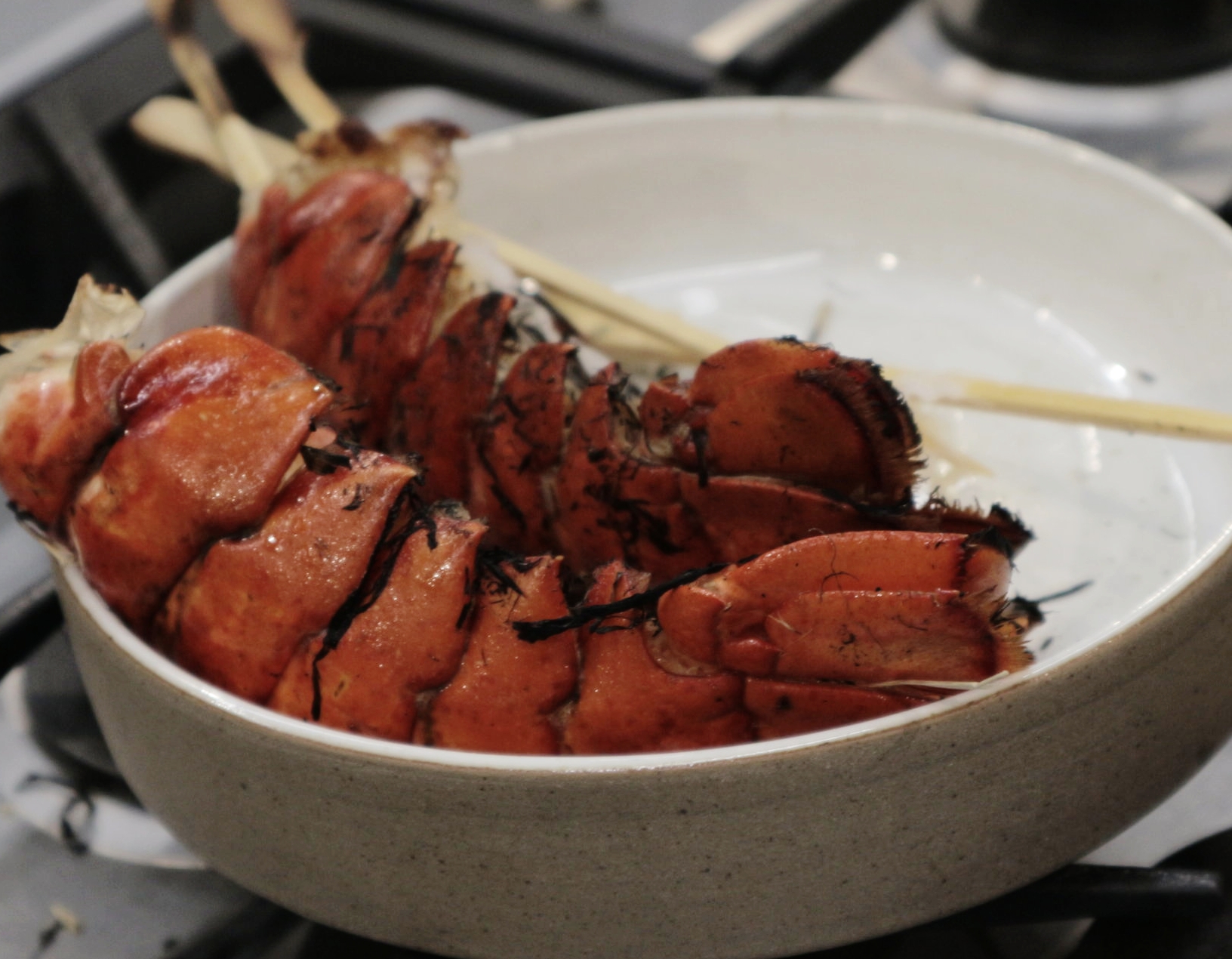 If lobster isn't for you, Iceland do also have a yummy Kanikama Luxury Sushi Platter that we used when decorating some edible rice paper stencils with flavoured sprays.
MAIN COURSES
Now onto the main event, the turkey. As many of you already know, I'm pescatarian so unlike everyone else, the turkey isn't high up on my priority list.
However, coming from a half Cypriot family (without stereotyping), I'm sure you can appreciate that meat plays a vital role in a Sabri Christmas dinner.
For those of you meat eaters out there, I can vouch for the fact that every single meat eater in the room was raving about the Iceland Luxury Gilded Turkey.
Neil demonstrated the turkey being cooked in two different ways I have never seen before.
Firstly, with a gold finish and secondly in salt. Exactly how you would have seabass in sea salt in a restaurant, the turkey was stuffed with orange, herbs and butter, then covered in a bag 3 kg of sea salt and cooked in the oven.
Although I obviously didn't taste the turkey, the entire room was raving about just how delicious it was!
Calling all my vegetarians
Please do not think you've been forgotten!!
At this point I was really wanting to try a main for myself and I was lucky enough to sample the most delicious Luxury Roast Parsnip, Mushroom, Spinach & Hazelnut Pithivier.
This is an area that most vegetarians struggle with, what to have with roast dinner. I personally find that the same nut roast can often be pretty boring. This dish is absolutely delicious and goes perfectly with all the luxury roast dinner trimmings served at Iceland.
Dessert
Before this trip, I had one expectation, and that was DELICIOUS desserts, and I have to say they really did live up to expectations.
Brace yourselves, some super colourful treats are coming your way!
The Iceland chefs really did break the boundaries with this one… The star of the show Iceland Luxury Melting Chocolate Snowflake
Just like many of the top restaurants I've eaten in across the world, Iceland have designed their very own melting dessert. The warm dark chocolate glaze is poured over a dark chocolate and bronzed chocolate honeycomb shell, which then melts through to the dark chocolate mouse and chocolate brownie base. OMG I'm having flashbacks to just how delicious it was!
it is not only incredibly rich and delicious, but also puts on the most fantastic show (as long as you make sure you read the instructions and pour the chocolate glaze correctly)
I am 100% going to be serving these for dessert on Christmas day!
Talking of putting on a show, I'm going to let the pictures below do the talking…
Dessert is served!
This was honestly the most incredible dessert display I've ever seen come to life infront of me. we immersed ourselves in the indulgent dessert experience, tasting pureed mixed fruits, eclairs and macaroons.
As you can probably tell, my sweet tooth took over here and everything was delicious!
This year my sister and I are cooking for 30 people across Christmas and Boxing day and as much as I love cooking, I know this is going to be a pretty big task. After this trip to Iceland HQ and trying out their new Luxury Christmas range, I can honestly say quite a few of the above dishes are going to not only save us a lot of time, but also create the most delicious Christmas menu for the family!
You can check out the full Iceland Christmas Range here- Happy eating beautiful people.
Love Lilly xx